Riding a Bike with an Arm Prosthesis
Molly has a 21 speed mountain bike. It is necessary for a mountain bike rider to be able to shift her weight in front of and behind the seat while standing on her pedals. With weight off the seat one can have much better control on rough surfaces and going up and down steep slippery inclines. Molly's bike has a few modifications to allow her full control.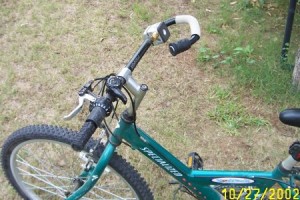 First we found what was called a brush guard handle bar. We then cut the "guard" off the left side, Molly's hand side, allowing a thumb gear shifter and a grip shifter to slide on. The thumb shifter shifts the front derailleur and the grip shifter controls the rear derailleur. Braking is also controlled on her left side. Shriner's had provided, but we have since seen these in bike shops, a hand brake lever that controls the front and rear brake at the same time. The front/rear bias is adjustable on the brake cables. The right side of the bike has the brush guard rotated toward the rider. It curves back toward the front in order to provide additional support to the prosthesis and hopefully will not cause injury in a crash. This bike also has toe clips that are missing the straps. These clips help the foot stay in the pedal while still allowing quick escape from the clip.
Molly's bike arm is a friction/suction fit prosthetic socket. It has a liner that doubles as a quick release from the bike when crashing and as a glove over her arm to protect from "road rash." The liner is held in by muscle tension and a nickel sized Velcro tab. The "wrist" of this arm was made from a universal joint of a socket set and the push button release is from the spare parts bin of the ortho shop.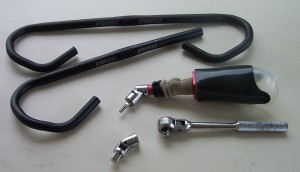 I believe he said it was a quick release from a Prosthetic knee. While it is called a quick release the fast way out of this set up is pulling her arm and liner out of the bike arm. This handle setup can be moved to another bike.
This set up allows Molly to charge full speed ahead in a lot of varied terrain. She also uses it on the street. When riding without this tool she would either get a backache after a few miles from sitting twisted on the bike or ride without any hands!! This setup makes for a much more comfortable rider and parent! When she heads out she always wears her helmet and glove!