Ryan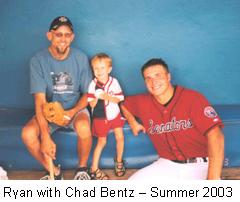 Hi. My name is Ryan.  I am 8 years old and just finished 2nd grade.  When I was born, my mom and dad were surprised that I was born with only one hand, but they soon figured out that it wasn't that big of a deal.  I can do anything I put my mind to.
I love sports!!  I've been playing baseball since I was 5.  My favorite position is pitcher. My mom says my best position is 2nd base though.  My dad is the coach and he has me in the batting lineup first because I can almost always get a base hit and get the team rolling.  This year I only played 5 games because I broke my wrist.  Sitting on the bench every game isn't much fun but I still cheered on my teammates. A couple of years ago I got to meet Chad Bentz.  He is a professional baseball pitcher who has a hand like me.  He was really nice and gave me an autographed ball and one of his own bats.
I have also been playing soccer since I was 5.  My favorite position in soccer is goalie but my mom thinks I make a better forward because I am fast and don't like to stand still much.  I learned how to swim last summer.  I can't wait for all the swimming I am going to do this summer.  This past winter I started wrestling.  I finished the season with a total of three pins.  One tournament I pinned both of my opponents!!  Wrestling is a lot of fun but it is also a lot of hard work….especially the leg lifts.
I am a sports junkie.  I love all sports and love to collect sports cards.  My mom says I have more cards than I know what to do with.  My other favorite thing is Star Wars.  I was Obi Wan Kenobi for Halloween last year and the year before that I was Darth Vader.  My other favorite thing is racing.  My dad races a sprint car and we watch racing together all the time on TV.  I have loved motocross since I was 3 years old and my favorite racer is Ricky Carmichael.  I have a Suzuki LT50 4-wheeler of my own and love to get out and ride it.
I'm glad my mom and dad found I-CAN when I was born.  I like to look at the website pictures. I've even gotten to meet a couple of people that are on the list that live near me.  I think it is cool to see that there are other people that look just like me.