Sydney Marie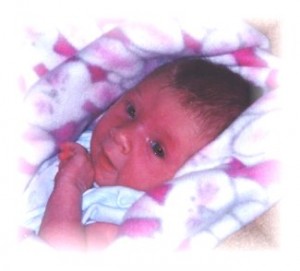 Hi, my name is Becky and this is my granddaughter, Sydney Marie, (RBE). She was born in 2000, in Lancaster, CA. I took her mom, Suzy, to the hospital about 10:30 am after a stress test at the clinic. The doctor induced labor at about 12 noon. I took my grandson Christopher home with me, and Suzy had her husband Chris with her.
I returned to the hospital to see how things were going at about 4 PM, and Suzy was just starting to have a lot of pain, but the hospital was busy that day (you know, 9 mo from New Year's) so she didn't get an epidural when she wanted it. By 4:30 she was starting to concentrate on contractions and need some coaching. She had decided to have her sister-in-law with her and Chris instead of me this time, so I left and called Chris's parents and gave them an update. My husband and I then went out to eat.
Just as we left the restaurant the phone rang. My daughter-in-law said that Sydney was here and Suzy wanted to tell us about it all. Suzy was so excited that I had no idea that something was wrong. After telling me that she had hair, dark hair at that, and that she was 6 lb. 2 oz. and had blue eyes, she said that Sydney was missing part of her arm. I just froze. I couldn't talk and had to give the phone to my husband. After a few tears I dried my eyes and went on to the hospital.
The hospital staff was very concerned about Chris and Suzy and talked to them often. The nurse was someone from our church and she was very worried about Suzy's lack of reaction to the missing limb. I had to tell her that my oldest daughter lost a baby 9 years ago, and we had friends with babies that had problems, so Suzy's reaction was "it's just an arm." She realized from the beginning that we could, and Sydney would, deal with this problem.
I'm sure that because of the hospital staff's concern for Suzy, Chris and Sydney they got a private room and were allowed more visitors than usual. They were congratulated by the staff and encouraged to see that she is healthy and there is nothing life-threatening. And to love her all the more. They never ignored the baby, but said how beautiful she is.
The I-CAN mailing list has been a Godsend. We have been able to see how she will do as she grows up, doing everything she wants with no limitations.
[album: http://child-amputee.net/wp-content/plugins/dm-albums/dm-albums.php?currdir=/wp-content/uploads/dm-albums/Sydney Marie/]