James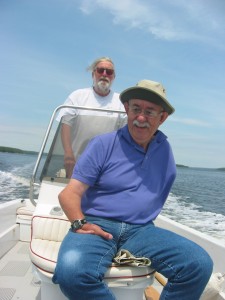 I was born in August of 1941 missing a left arm and all but two fingers of my right hand. I went to public schools (into which my parents found it difficult to get me admitted), then to Catholic elementary and high school. In my youth I was reasonably active in sports of all  kinds and claim, with no evidence whatsoever, that I finished second in more table tennis tournaments than anyone else in living memory. I have run marathons, but now prefer duplicate bridge, at which I have become a Bronze Life Master. I graduated from Canisius College (a Jesuit Institution, i.e., somewhat Catholic) with a degree in Classical Languages and Philosophy.
After two years teaching Latin in a public high school I moved to work in a college library. After a year there, I went (with pregnant wife and two small children) to the University of Illinois for a Masters degree in Library Science. I then worked in various university libraries: in Michigan (Oakland University), Washington state (Eastern Washington U.), Arizona (U. of Arizona), California (Stanford), and finally Philadelphia, PA where I was for ten years or so director of the Temple University Libraries.
While in Philadelphia, I attended evening law school at Temple, graduating in 1993 and was admitted to the bar in Pennsylvania and New Jersey. I continued to work at my "day job" and practiced evenings and weekends primarily on a pro bono basis, representing the poor in custody and support matters, writing wills for AIDS patients, doing bankruptcy work, and the like.
In the summer of 1995, I was appointed Dean of Temple University's Japan campus and moved there in order to move the campus itself into central Tokyo from a suburban location. My wife, Victoria Montavon, remained in our home in Philadelphia at that time, as she was director of the St. Joseph's University Library. In 1996, after a year and one half of painful separation and 80,000 frequent flyer miles for Vicki's visits to Tokyo, Victoria was appointed University Librarian at Wright State University. I retired at 55 years old to be her house-husband, and to try the things I hadn't had an opportunity to try before.  In 2001, Victoria became Dean and University librarian at the University of Cincinnati and decided to take me along.  We bought a condominium overlooking the Ohio River, northern Kentucky, and Downtown Cincinnati.
While we lived in the Dayton area, I wrote a series of articles for the Dayton Daily News, mostly on the subject of what it is like to be "handicapped."  Some will disagree with my offbeat style and attitudes in the articles posted on the I-CAN web site. I hope that if you do disagree with me you will use the disagreement as the start of a dialog, an attempt to straighten me out.  I am currently writing articles on a variety of subjects, some humor, some news, for the Downtowner, a Cincinnati weekly newspaper aimed at those who live or work downtown.
I was at one time an active participant as a mentor in I-CAN, but left the group in 2001 because I was feeling some burn out.  I returned to I-CAN in April 2004, planning to remain until or unless burnout strikes again.
I have three children, all married, and four grandchildren ranging in age from three to seventeen.
Here is Justin's Book which I wrote for my grandson.
Published articles written by James:
Being different brings difficulties
Give praise only when warranted
Real World Doesn't Give Many Breaks