Sami – BAE, BBK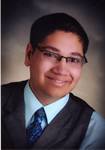 Hello my name is Sami. I am a bilateral above elbow amputee and a bilateral below knee amputee.  I wore arm prosthesis when I was younger but I no longer use arm prosthesis because I am able to do everything without it.  I wear below knee prosthesis and I sometimes use a power chair (when I am recovering from surgeries). I have had fourteen surgeries; ten of the fourteen were for bone overgrowth.
I have had two service dogs. I trained Ravi through an organization called Top Dog, which allows people to train their own dogs, when I was eight years old and now Ravi has retired. Three years ago, I got Ashka and trained her through Top Dog and now she takes over what Ravi was doing for me.
I have graduated high school and heading to Pima Community College for two years then transferring to the University of Arizona.
I-CAN
Written by Samir Madden
Dedicated to Bill and Joyce Baughn
It is a family of kids
It is a family of parents
Some of us are kids
Some of us are teens
Some of us are adults
We all have come for one purpose
To be light for those who have none
To be hope for the hopeless
To be a family for those who have none
We have two people to thank
Joyce and Bill
Without them we wouldn't be I-CAN
Without them we wouldn't be here these five special nights
Without them we wouldn't be here tonight
Thank you
Joyce and Bill