A Struggle to find Work
Charlotte Observer – December 2007
Jobless rate for disabled almost 10 times overall rate
MIKE DRUMMOND
mdrummond@charlotteobserver.com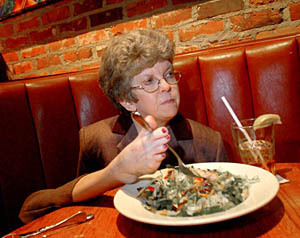 Carol Franks was born with no arms, yet she has worked most of her adult life. However, after a couple of layoffs, she's unemployed and looking for work.
Carol Franks flips her purse strap over her shoulder, opens the door of her 1970 silver Buick Gran Sport, and slips behind the steering wheel.
Altogether an unremarkable set of accomplishments.
But she does all this — and more — with her feet.
Franks, 54, was born without arms, among an estimated 2 million Americans living with some form of limb loss.
"I'm not handicapped," she says. "I just do things differently."
Laid off from her secretary job two years ago, the Charlotte woman also is among millions of "disabled" job-seekers struggling to find work.
Despite anti-discrimination laws and new private-sector employment initiatives targeting the disabled, the unemployment rate for people with disabilities is 44.2 percent, almost 10 times as much as the overall national unemployment rate, U.S. Census Bureau data show. A Cornell University study released in November found even higher unemployment rates among all the nation's 22.3 million disabled workers age 21-64. These people also were twice as likely to live in poverty, the study said.
Prejudice and accessibility are to blame, says George Kerford, chairman emeritus of the World Association of Persons with Disabilities in Oklahoma City.
"Too often people in wheelchairs can't get into some places because employers won't make their buildings accessible," he said. "And, to be honest, the other reason is a lot of people don't want disabled people around."
Costs of retrofitting buildings with ramps and other accommodations also have been cited as reasons for not hiring the disabled.
Kerford has helped launch a work-at-home program that pairs the disabled with companies such as Mary Kay Inc., Tupperware and the International Entrepreneurs Association, among others.
He hopes the fledgling initiative will "change the whole world economy."
Tough time finding jobs
Over lunch at a busy restaurant across from SouthPark mall last week, Franks picked at her Oriental chicken salad. She cradled a fork between the index digit and big toe on her right foot. She occasionally adjusted her glasses, her arched foot reaching with ease.Born and reared in Mount Gilead about 60 miles east of Charlotte, Franks learned to swim as a small girl. She learned to dress herself before she graduated high school. The rural community nurtured her, she and her family says. Yes, there were times she wished she were more like her pretty little sister, Janice — the one who had all the dates and went to the prom. And her eyes grow misty when she talks about her father, who never seemed to get over the sense of amazement that she could drive, graduated King's College in Charlotte, and function independently.
"I just thought I was normal," she said.
Franks worked 29 years at Bank of America Corp. in Charlotte. The bank laid her off in 2002 during downsizing. She was about to turn 50 and had just returned from a monthlong illness at the time.
The memory rankles the 5-foot-tall office worker and her husband, Mark.
The bank eliminated the position as part of a "workforce reduction," says spokeswoman Kelly Sapp. The bank "actively recruits those with disabilities," she adds, noting the company employs 300 or so with cognitive or developmental disabilities, participates in a program to hire wounded veterans and is a longstanding participant in the Special Olympics, among other worker-friendly activities.
Franks eventually found work at Griffin Home Health Care in Charlotte. Another downsizing claimed that job when Griffin lost a major client. The office shrunk to 20 employees from 32.
She says she prefers to focus on what's next and what she can do.
"I can type 50 words a minute," she says. "I know that's not fast, but I'm accurate."
Bill Griffin says Franks "showed me a real desire and passion for wanting to get the work done. It came from the heart." He had never hired an armless employee.
The business made minor adjustments, including using lower filing cabinets. She served as his administrative assistant, typed memos, made copies. "If you can do it," he says, "she can do it."
Franks holds no ill will toward Griffin. These days she does most of her job hunting online and doesn't disclose she's armless.
She's had four or five in-person interviews this year. None have panned out.
"I tell them there's nothing I can't do," she says. "I'm fully capable, as over 35 years of employment has proven."
That longevity may be a liability.
"I think with Carol, the main thing is her age," says Joyce Baughn, president of the International Child Amputee Network. I-CAN helps parents and their children cope with limb loss. Franks volunteers with the organization. "She's already proved she can handle a job," Baughn adds, "but right now age discrimination" is a factor.
Franks, undeterred, is convinced the right job is out there.
"I believe I'm here to be an inspiration," she says. "I totally believe there's a reason for being born like this." As many as 4,500 children a year in the United States are born with some form or limb loss. About 58.5 percent of all limb deficiencies in newborns involve the upper limb. The specific causes of congenital limb deficiencies are frequently unknown.