Her Sights are Always High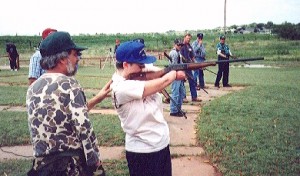 Baughn finds ways to compete
by Joe Julavits, Times Union Outdoors Editor
© Florida Times Union, Jacksonville, Florida Sunday March 17, 1996
When Joyce Baughn showed up one weekend last September at WW Sporting Clays and said she wished to learn how to shoot, instructor Ken Branham was momentarily speechless.
"I didn't know what to say," Branham said. "She asked me if I thought I could help, and we went on from there.  "Now she's my hero. It's been very rewarding for me.
"That Baughn, 57, should take on one of the most challenging of shooting sports should come as no surprise to those who know her.
Almost fifty years ago, both of her arms were severed near the elbow when she crawled under a moving train. She wore prosthetics for a couple of years, then one day the cable mechanism on the replacement limbs snapped.
"In a short time, I showed I could do everything without them, and I just left them in the closet," Baughn said. "I was lucky enough to have the cable break.
"If I stuck to what people expected me to do, I'd sit home in a rocking chair and let people take care of me. But I don't see much of a life there."
Baughn, who has been driving since she was sixteen, holds a Masters in library Science from The University of Denver and works as a customer service rep for Barnett Banks in Jacksonville. Her interests include gardening, genealogy, stained glass making — and now shooting sporting clays.
Until last year, she had never heard of the sport. Baughn and her husband, Bill, organized an amputee support group several years ago when they lived in Dallas. While there, they heard about the Annual One Arm Dove Hunt held in Olney, Texas, and, out of curiosity, attended one of the shoots.
Baughn had no interest in the hunting aspect, but she did give the trap-shooting a go. She shot miserably but returned to Olney in succeeding years, even after moving to Jacksonville four years ago.
"I accidentally hit a target once and went ballistic," Baughn said.
Convinced this was something she wanted to do, Baughn decided to seek help at WW Sporting Clays in Jacksonville. Still, she was apprehensive.
"I had been a little hesitant about coming to a gun club – I expected more the biker types," she laughed. "but they kind of adopted me out here. And there aren't any bikers."
"They've gone out of their way to encourage us," Bill Baughn said.
Joyce's gun began as a single shot, New England Firearms 20 gauge. Bill, a stagehand to whom improvisation comes naturally, set about modifying the shotgun so that Joyce could shoot comfortably and accurately. The stock was shortened, the butt lowered and an aluminum ring – through which Baughn could slip her upper left arm – was fitted.
To reduce recoil, the forcing cone was removed from the gun.
"My husband would do something to it, I'd try it, then he'd do something else to it," Baughn said. "I think we have it now."
Under Branham's instruction, Baughn dusted her first sporting clays target last September and now shoots almost every weekend. She's not ready for tournaments yet – her gun is not capable of the required double shots – but she's hitting her share of singles.
"Many, many times she's hit seventeen or eighteen birds in a row," Branham said. "It used to be one out of five."
"Ken doesn't pressure me," Baughn said. "He's a wonderful instructor."
Baughn's immediate goal is a return trip to Olney this year, where she may surprise some of the mostly male shooters.
"New amputees can go out there and find out life goes on," she said. "When I go to Olney in September, I plan to win."